Celeste Ng is the novelist of the moment and all her efforts have been excellently well paid-off by the critics and specialized media. This 38-year old woman will soon have this book turned into a Hulu 8-chapter mini-series starring Hollywood superstar Reese Whitherspoon and Kerry Washington. Also read about the book 'Hunger by Roxane Gay'.
Celeste Ng
We are talking about the daughter of a weird marriage between a NASA physicist and a University-grade chemist. Her parents moved to the USA from Hong Kong and had Celeste in 1980. She was raised in Shaker Heights, Ohio, although her family moved around quite a bit. She is now married, has a son and lives with her husband in Cambridge, Massachusetts. She is a Harvard graduate and has a Master in Fine Arts from the University of Michigan. Her writing career started while at Michigan University where she got the Hopwood Award for a short story called What Passes Over.
Celeste had quite a successful debut novel called Everything I Never Told You (2014) that took six years, four drafts and one complete makeover to be finished and was translated to fifteen languages.
Little Fires Everywhere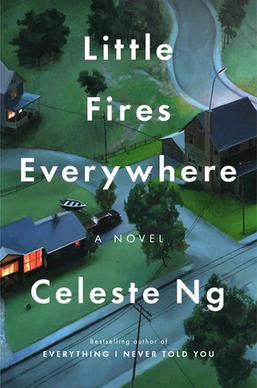 I really enjoyed reading her book. Her prose is powerful, sophisticated but close and the plot is very well put together creating three distinct threads that are correspondent with three major society dramas. The whole idea of the book is to put a question mark on motherhood. Is being a mother a biological step or is it an emotional one? It deals with teenage pregnancy, infertility and babies' abandonment. The only thing that is against this novel is that you can see it all as a very well put-together puzzle instead of a photograph.
She has lived most of her life in the place she describes in the decade she places the novel at, so that is very real and close, but the idea of dealing with the three circles at the same time is evident from its very diagram. You can see how carefully she has put together the pieces and, to my own taste, of course, the plot and the book lack a little depth.
She takes on very sensitive subjects and digs into an apparently perfect situation, but the result is not something that will change your life.
It is not a memoir, but a fiction book, this means that the plot could be as deep as she chose it to be and, although structurally, technically and professionally it is impeccable, it lacks the meaning. There is a fire that takes on the main family's house as an initial fact that will shape the novel, but the reason behind setting the house on fire is not strong enough to make it believable. Read it, you will have lots of fun with it, just don´t expect it to change your life.